Lineage 2 Strategy Guides
Welcome to our section dedicated to Lineage 2 Strategy Guides. Here you'll find both free and paid guides covering different aspects of the game. Keep a close eye on this section as we'll be adding more guides in time.
Lineage II Phoenix Knight Character Build Guide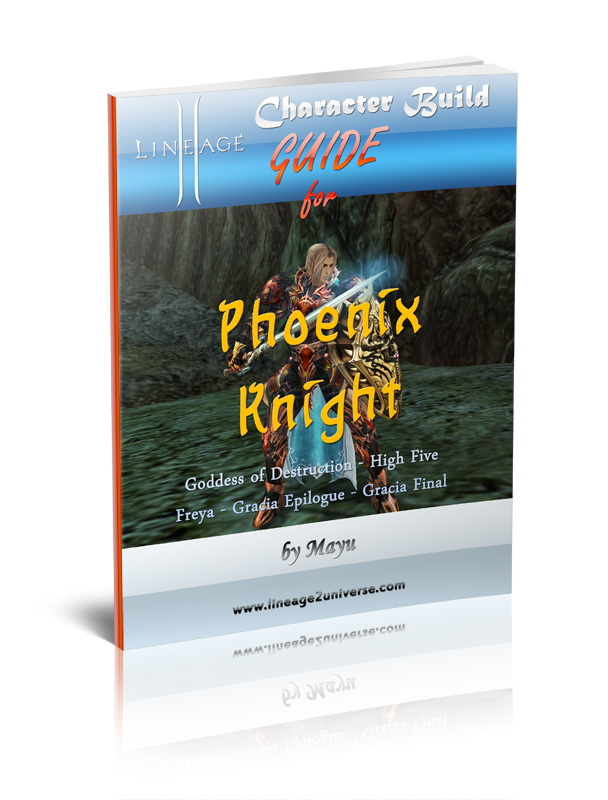 Behold the second guide in the character build series!
This guide is for all aspiring Paladin and Phoenix Knight players, focusing on the so important character builds that allow you to get the maximum out of any in-game situation. Included are detailed tips for:
The best equipment for each grade
Efficient Dye combos
Subclass Certification Skills that work best depending on chosen play role
Choice of Attack and Defense Attributes
And a lot more...
Click here to find out more...

Lineage 2 Titan Class Character Build Guide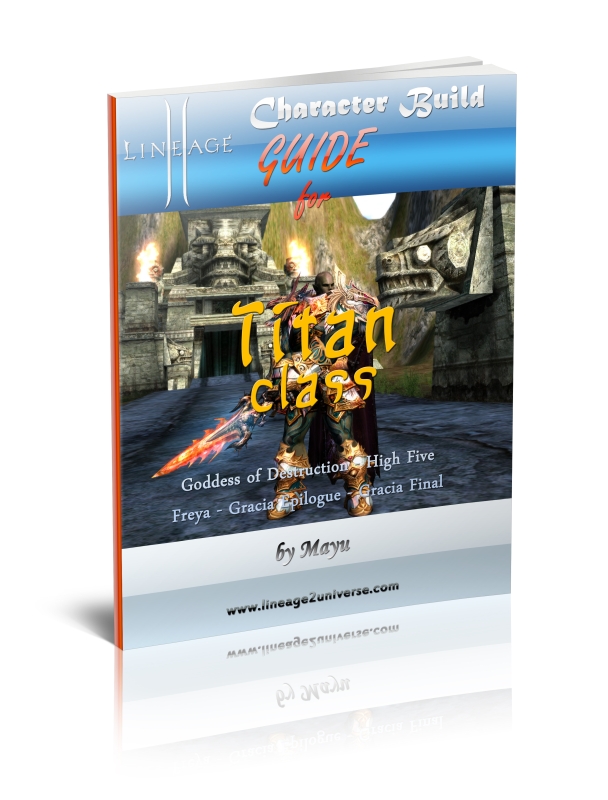 Starting with this Titan guide, my aim will be to provide a series of Character Build Guides for as many classes as possible. The guides will focus on pure game mechanics on how to set up your character rather than any gameplay tips, so they are ideal for those of you who want concise and practical information, without unnecessary explanations.
In the Titan guide you'll find:
Weapons, Armor Sets and Jewelry
Dyes
Subclass Certification Skills
Attack and Defense Attributes
And more...
To learn more, go to the Lineage 2 Titan Class Character Build Guide page.

Lineage 2 Macros and Player Commands Guide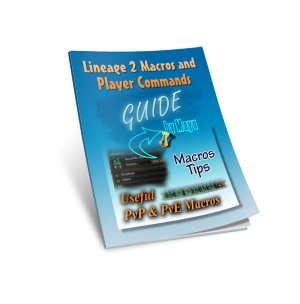 This FREE guide covers the basics of Lineage 2 commands and the L2 macro system, providing examples for both PvP and PvE which you can either copy or use to get ideas for making your own custom macros.
Inside you'll find information such as:
Introduction to the Lineage 2 Macro System
All available player commands, as well as macro-specific commands
Parameters you can use in macros and macro mechanics
PvP and PvE example macros that have been proven to work through years of gameplay experience
For more information, visit the L2 Macros and Player Commands Guide page and download your FREE copy today!

Mayu's Ultimate Duelist Guide
This is the 3rd guide in the Mayu's Ultimate Guide series and it focuses on the Duelist class, going through all its gameplay aspects - class builds, skill mechanics, PvP and PvE tactics and much more:
Complete and in-depth view of the Duelist class, including stats, used items, attack skill damage calculation, macros for PvP and Pve, and so on
Character builds, from equipment and symbols, to attributes and certification skills, not only for each in-game situation, but for both retail and private servers running High Five or older chronicles
How to approach PvE, what buffs to take, how to multibox and how to be efficient when playing in a party
Comprehensive PvP section, covering open PvP, small scale battles and the Grand Olympiad, with discussion of tactics against each class in the game
Go to Mayu's Ultimate Duelist Guide web page to learn more.

Mayu's Lineage 2 Ultimate Adena Making Guide
Finally a solution to the ever-present problem of making Adena in Lineage 2. This guide contains all the different strategies that can net you a good profit, especially when combined together as complementary activities.
Some of the topics covered inside include:
Reading and taking advantage of the virtual market
Most profitable items you can gather and sell
Beneficial warfare and farming activities that can make you as much Adena as you want
The advantages of playing a Dwarf
Quests that anyone can do to make addition income
This and a lot more in this new and one-of-a-kind Ultimate Lineage 2 Adena Making Guide.

Lineage 2 Subclass Certification Skills Introduction and Exact Effects Bonus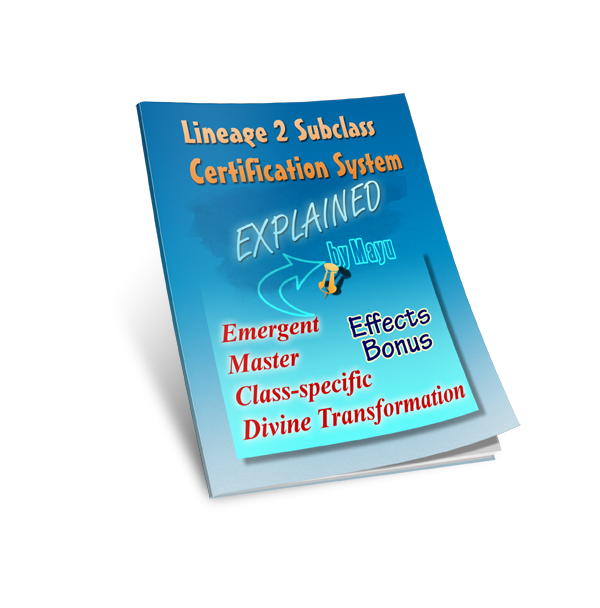 This FREE guide inherits my popular article on the topic, but goes up a level by providing additional information, especially on Divine Transformation.
It also contains corrections to some errors I've made and fills in the gaps about different subclass skills aspects that I've omitted in the the article.
Some of the things you'll find inside are:
Introduction to the Lineage 2 Certification System
The steps to getting your subclass certificates
Precise effect bonuses of the Emergent, Master and Class-Specific Abilities
A thorough description of the Divine Transformations and their exact skills
Go to the the L2 Certification Skills Primer Guide to find out more and get your copy for FREE.

Optimal Sub-Class Skills for Each Class
This guide contains all you need to get the best out of your sub-classes and the skills you can get through sub-class certification, regardless of what character's main class is.
Some of the things you'll find inside are:
5 different combinations of sub-class skills for each of the 34 classes in the game
Useful tips and in-depth view of sub-class skill mechanics
Suggested skills to take in case you have sub-classes already
Single page tables for each class, with optimal Emergent, Class-Specific and Master abilities
Quick-and-easy to use 1-click Table of Contents to get a solution for any class instantly
Read more about the Optimal Sub-Class Skills for Each Class guide.

Mayu's Ultimate Tyrant & Grand Khavatari Guide
The second release in the Mayu's Ultimate Guide series covers all the gameplay aspects of the Tyrant and Grand Khavatari classes in Lineage II.
Here are some of the topics you can learn about in detail from this guide:
In-detail overview of the Tyrant class stats, skills and how to get the best out of them
Suggestions for optimal character builds in both PvP and PvE combat, including equipment, symbols, attributes, sub-class skills and so on
What buffs work best for Tyrant and how to engage in PvE for most efficient leveling and resource management
Extremely detailed PvP section with tips and tricks against all classes you can face in large scale combat and the Grand Olympiad
This and much more in Mayu's Ultimate Tyrant & Grand Khavatari Guide.

Leveling & Hunting Zones Guide for Warlord & Dreadnought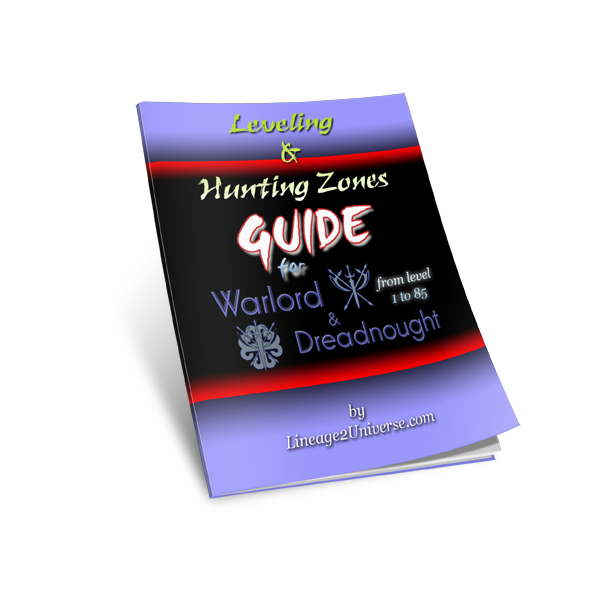 Leveling with a Warlord is fun and efficient, but to do it properly you need to chose the right hunting grounds. This guide expands what's already discussed in Mayu's Ultimate Warlord Guide by covering topics that were not touched in detail there.
In this FREE guide, which you can download right away, you'll find answers to some of the following questions:
How to start out with your Human Fighter character right from level 1.
Which quests to do, along with links to walkthroughs of the quests.
What equipment works best for each range of levels.
Which are the best hunting grounds depending on your experience, equipment and party support.
Check out more about the Leveling & Hunting Zones Guide for Warlod & Dreadnought and get your copy today.

Mayu's Ultimate Warlord Guide
For all of you aspiring Warlords who are interested in understanding this class in depth and learn how to exploit its capabilities to getting the best possible results - this guide is for you.
Here are just some of the topics covered inside:
Optimizing the class stats to make it most suitable for your gameplay, be it PvE or PvP
What equipment to chose to achieve maximum efficiency
How to approach hunting grounds so you can kill as fast as possible
What role to play in mass PvE and PvP
Top buffing combinations for best results
And much more...
Find out more about Mayu's Ultimate Warlord guide.

Lineage 2 Most Used Terms and Abbreviations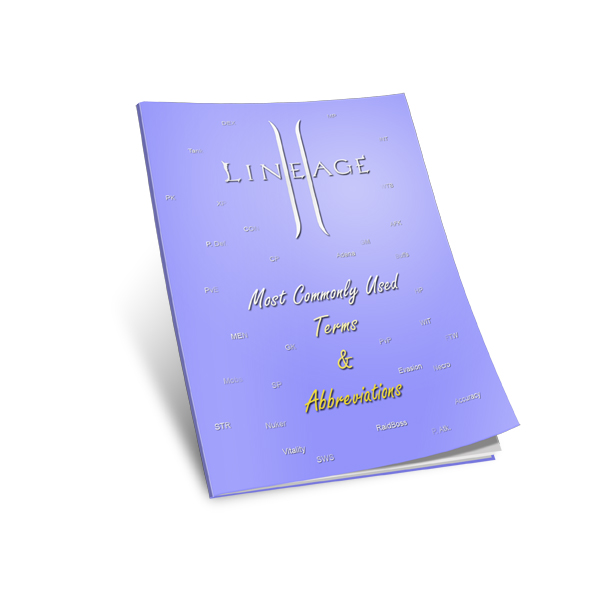 This free short report explains the meaning behind the most often used terms in the world of Lineage 2, be it game terms or chatting jargons.
You can easily use it not only if you're a beginner, but as a reference if you need to check the meaning of something that you came accross while playing the game.
Check out the guide by clicking here.