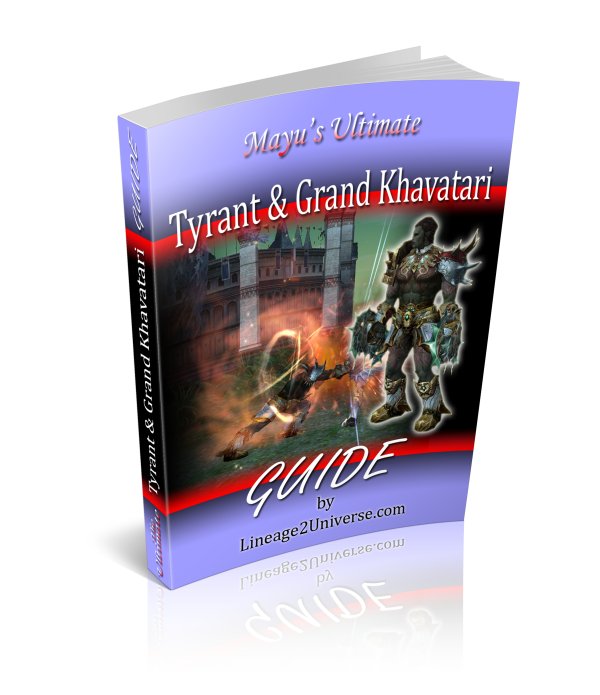 The second release in the Mayu's Ultimate Guide series covers all the gameplay aspects of the Tyrant and Grand Khavatari classes in Lineage II.
Here are some of the topics you can learn about in detail from this digital/PDF guide:
In-detail overview of the Tyrant class stats, skills and how to get the best out of them
Suggestions for optimal character builds in both PvP and PvE combat, including equipment, symbols, attributes, sub-class skills and so on
What buffs work best for Tyrant and how to engage in PvE for most efficient leveling and resource management
Extremely detailed PvP section with tips and tricks against all classes you can face in large scale combat and the Grand Olympiad
The power of the Tyrant and Grand Khavatari classes has finally been unlocked… 
"Turn Your Tyrant or Grand Khavatari Into the Ultimate Killing Machine – Learn How to Dominate Your Opponents in PvP Combat and How to Level With Utmost Efficiency During PvE"
All the Tyrant/GK Class Gameplay Style and Mechanics Expertise Put Right at Your Fingertips
Mayu's Ultimate Tyrant & Grand Khavatari Guide is Your One-Stop Strategy Guide Solution for Taking the Best Out of Your Character
Dear Lineage 2 Player:
Exploiting the full potential of the Tyrant & Grand Khavatari classes is the main subject of this edition in the Mayu's Ultimate Guide series.
It will help you to get a deeper understanding of the class' strengths and weaknesses, learn how to maximize your stats, use the most appropriate equipment depending on the situation and defeat anyone who dares to fight you in PvP Combat.
The Tyrant/Grand Khavatari is one of the top PvP classes in the game, but you need to have the right approach to turn your character into a force to be reckoned with.
Gain the respect of fellow warriors and instill fear into the hearts of your opponents by dominating in all your PvP encounters.
Is this the right guide for me?
Mayu's Ultimate Tyrant & Grand Khavatari Guide will help you:
Understand the role and purpose of the Tyrant class in different situations
Explore the maximum potential of your class' capabilities in both PvE and PvP
Learn how to equip and prepare your character to get the maximum out of any possible scenario
Figure out which are your most useful skills and how to combine them together in the best possible way
Level up by approaching PvE the smart way without wasting time and resources
Be in control of any PvP fight by reading your opponents' intentions and applying the most efficient strategy
Dominate the Grand Olympiad and maximize your chances of winning against even the toughest classes
Testimonials
Thank you Mayu, I was a complete noob about Tyrant. Never played with this class before. But whith your Guide is possible to to get the best of this Orc.
by TitanJubi – Server Chronos
At first i thought i will learn just a bit, but after i started reading this guide i can't stop reading it. I was pretty good with tyrant 'cause i play for 6 years with lineage 2 so far, and 3 years with GK. I thought "I know everything" but i was wrong… i learned a lot from both PvE and PvP. i now play on private server, and i know [how to] use it there too… I always did just PvP but i didn't know how to fight at olympiad games at all… Now i am a hero GK (47 Win – 3 Lose), and all i did was read this guide. There are skills routes, weapon&armor attributes. I loved most interpretations/comments. He didn't just say: Use this, use that… He wrote down why its good, why select that, etc. I recommend that guide to both begginers and advanced players too… Its really, very helpful, Mayu did a great work.
by Istvan Orban
A quick look inside the guide
Interested to see what's inside? Here are two screenshots of the strategy guide's actual table of contents (click to see the full size images):
Guide Features
Here's a full list of Mayu's Ultimate Lineage 2 Tyrant & Grand Khavatari Guide features:
Detailed overview of the class – base stats and list of all skills, with comments and advices for each of them
C to S84 Grade by Grade equipment overview and suggestions – weapons, armor sets, jewelry, bracelets, talismans, cloaks, belts, shirts
Symbols & Dyes for any possible playstyle and gameplay scenario, covering both PvP and PvE
Most efficient choice of weapon and armor elemental attributes
Several skill combinations from subclass certification, designed for maximum efficiency in any possible in-game situation
Optimal skill enchantment routes for PvP
Useful Weapon augments you can benefit from
Best choice of buffs for a Tyrant & Grand Khavatari. Helpful buffer classes for your char
A look at Weapon and Armor PvP Bonuses acquired in exchange for Fame Points
Gameplay tips for both PvE and PvP. Large and small scale combat tactics
Grand Olympiad preparation and very detailed combat strategies against all classes in the game
60 pages of no-fluff, practical and useful information
It seems to have all I need, but how much much is it worth?
Think about how long it would take you to figure things out on your own. Months? Years? I know Lineage 2 players who have been around for years and they're still clueless about some aspects of the game and even their main character, so what's left for the less experienced out there.
The harsh truth is that unless you're lucky to come across proven strategies that work, you can easily end up wasting your time and resources doing the wrong thing. As for learning things on your own by experience, having the right or the wrong approach can make a HUGE difference. And most people are sadly taking the wrong approach…
This guide delivers you the expertize knowledge mixed up with experience and in-depth understanding of how the Tyrant and Grand Khavatari class works. It shows you the right approach and methods to doing anything related to your character's gameplay and build, in any possible situation. All that is achieved by not only mine, but the knowledge and experience of other top GK players out there that I'm lucky to know and learn from.
Normally such a MMORPG guide would cost you anything from €29.99 up to €49.99, but I'm sure you'd agree with me that it is something most players are not willing to pay, even if they're very interested in the guide.
This is why you can get the guide right now for just €14.99! Many people are telling me that for the amount of topics covered in this Ultimate Tyrant & Grand Khavatari Guide I'm charging way too low, but I WANT to help you out with your Lineage 2 gameplay and this guide is my way to do it.
I've had enough of seeing people struggling just because they keep listening to bad advice from the so called experts. With strategies and tips inside this strategy guide, which would otherwise take you months and years to find out or come up with on your own, I believe you're getting the real deal.
Up to date with High Five!