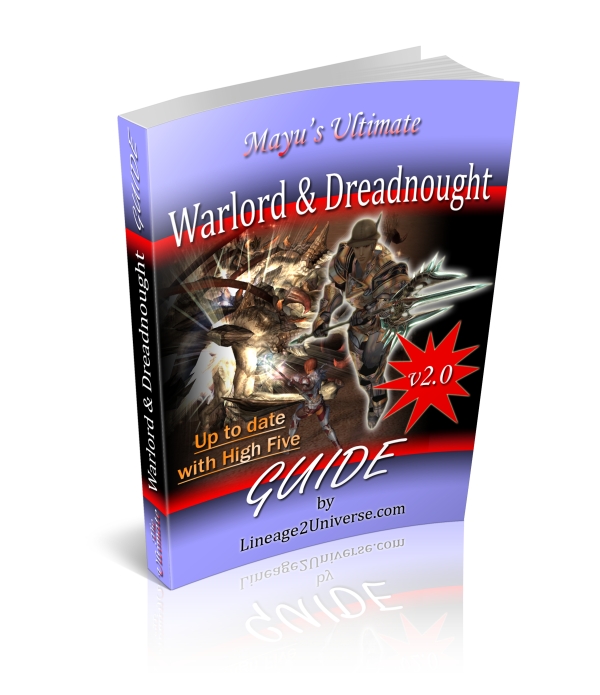 For all of you aspiring Warlords who are interested in understanding this class in depth and learn how to exploit its capabilities to getting the best possible results – this digital/PDF guide is for you.
Here are just some of the topics covered inside:
Optimizing the class stats to make it most suitable for your gameplay, be it PvE or PvP
What equipment to chose to achieve maximum efficiency
How to approach hunting grounds so you can kill as fast as possible
What role to play in mass PvE and PvP
Top buffing combinations for best results
And much more…
Up to date with High Five, but 
still compatible with Gracia Final, 
Gracia Epilogue and Freya!
"The Ultimate Lineage 2 Guide to Mastering the Warlord and Dreadnought Class Completely.
Learn How to Get the Maximum Out of Your Character in PvE and PvP Combat!"
The Class, The Equipment, The Skills, The Gameplay, The Combat
The Most Comprehensive Lineage 2 Warlord & Dreadnought Guide Online
 Dear Lineage 2 Player:
Mayu's Ultimate Warlord Guide is for all of you who want to master the Warlord and Dreadnought classes in the game. It contains an in-depth look into the class specifics and a thorough discussion of the gameplay and strategies involved in getting the maximum out of your character and in-game situations you may face.
The Warlord/Dreadnought is the most efficient and versatilePvE fighter class in the game and mastering it means enourmous benefitsfor you, your friends and your clan. It's also a lot of fun to play and an excellent fit into almost any party.
Regardless of whether you're a new player looking for more information or someone with experience who's willing to improve even further, you will certainly find something helpful inside this guide.
Is this the right guide for me?
Mayu's Ultimate Warlord Guide will help you:
Get a deeper understanding of the game mechanics in relation to the Warlord class.
Learn how to optimize the class stats for best results in PvE and PvP.
Get proper equipment depending on your in-game aspirations.
Discover which buffs work well for a given situation.
Understand how to approach a hunting zone and find its rhythm for most efficient killing.
Figure out which skills to use when and how often.
Turn your Warlord into a PvP force to be reckoned with.
Make it through Sieges, Raids or PvE parties.
Receive the admiration of other players and have them look for your advice and company in their parties.
Testimonials
Here's what some of the players who got the guide have said about it:
Your warlord guide (if you remember) was one of the most debated things with me. 🙂 Maybe cuz at that point my most used for PvE char was a WL too. Basicly the things in this guide are good cuz me and you, and other good players shared a lot info within the game. And also you put a great deal of spending time trying to find your best way for maximum usage of this char, but the things I had to say "NO" was the guide teaches you about every step in developing a WL and Dreadnought, and my point was that it's your experience and your point of view – people will lose the possibility to find their own place under the sun of noobing around and learning how to play, but you know me – I like things to be learned the hard way cuz that'ss the only way to remember good – learning from your mistakes.
I think that puts you in your own place, and on the opposite side we have someone's point of view and his own experiance given without the option to learn by their own way. Anyway, at the end I agreed with you about that if people need a guide they wanna see someone's experience how it's done, not their own, and you agreed that you will try not to say in your guides "that's the only good way, and there aren't other easier paths" cuz people may see something what you see as easy like hard and the opposite :).

In other words that's the guide I have read and debated a lot, and see how it was changed I think for better :P, and I hope I have helped at lest a litle with my criticism. Anyway, I think this is really a great help for people – not only for those who wanna take the info directly withouth having a hard work fighting their way, but also it's a great help for people who have played a lot and need some little push to be perfect.

After all this is a great deal of shared experiance between many players for many years and a great deal of researche you have put into not only testing all aspects of this char, but also as many as possible in real lineage II gaming, suitable for retail or retail-like environmment, and also for the modern-nowaday customized free servers.

Once again great job, congrats! And many people must be thankful to you (if you remember I told you if I had to make a guide it would be only with 2 words and will start with "die" lol) and I hope they understand that knowledge means power :)!
by Lady Cat
Starting out as a Warlord with the support from this guide helped me to focus on reaching goals and targets in the game without wasting time and resources on inferior equipment, skills and other dead end avenues. When I began using Mayu's Ultimate Warlord Guide I had limited experience of Lineage 2 and have often referred to it for clarification on subjects I didn't understand, not just warlord matters. The deep understanding, format and enthusiasm with which Mayu has written the guide has increased my own enjoyment of playing, it was a great satisfaction when my character reached a stage where I could apply another of the guides suggestions and enjoy the benefits.
In conjunction with this guide and Mayu's free Leveling & Hunting Zones Guide for Warlord & Dreadnought I have not had any second guessing of my plans for each day while improving my own character. So much time was saved from this and the confidence I gained from knowing I was moving in the right direction has allowed me to push on with much less effort.

As I continue to explore the details in the guide I can experience the game to the full and look forward improving my Warlord for the different aspects of Lineage 2 gameplay to maximize my characters potential.
by Alan Wallace
A quick look inside the guide
Interested to see what's inside? Here are two screenshots of the strategy guide's actual table of contents (click to see the full size images):
Guide Features
Here's a full list of Mayu's Ultimate Lineage 2 Warlord Guide features:
Skills overview with comments and tips on important skills.
Detailed look at the class stats. Strengths and weaknesses of the class.
Grade by Grade equipment suggestions and recommendations – weapons, armors, jewelry.
Sub-class skills combination to cover any possible PvE and PvP situation you may encounted as a Warlord.
A look at useful Augments that can aid you in combat.
Attack and Resistance Attributes section discussing what Attributes to put on your armor and Polearm weapon.
Skill enchant tips for optimal PvE and PvP.
Simple but efficient Macros to help you with different aspects of the game.
A thourough PvE section, with a detailed look at most appropriate buffs for a Warlord and numerous tips on efficient monster killing.
PvP tips for both large and small scales battles, as well as 1-on-1 at the Grand Olympiad.
Over 60 pages of concise information and thorough discussions for each topic.
As you can see the guide is information, but at the same time avoids topics that would only distract from its purpose. Quests, leveling zones, making money and other similar aspects that are not directly related to playing the Warlord class have been omitted on purpose. There are enough quest walkthroughs on the Internet and the topic of leveling and making money are worth a guide on their own.
You can get the guide for just €19.99 and that includes all the benefits I mentioned above, as well as personal advice from the author on any topic concerning playing a Warlord/Dreadnought or other aspects of the Lineage 2, and free guide updates.